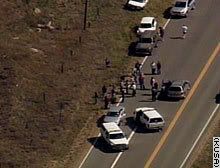 All I have to say is what the hell is wrong with society today????


BAILEY, Colo. — A middle-aged gunman walked into the high school in this mountain town Wednesday, fired at least two shots and took six people hostage before the situation ended with his death, authorities said.

Lance Clem, spokesman for the state Department of Public Safety, said the gunman was dead, but had no immediate details on his death. He also did not know the condition of two young girls who were being held hostage after the other hostages were released from Platte Canyon High School, but a Denver hospital confirmed that it was treating someone in critical condition from the scene.

Jacki Kelley, spokeswoman for the Jefferson County sheriff, declined to release details pending a formal news conference.

Authorities had what they described as "sporadic" negotiations with the suspect and urged him to contact them for more discussion. Officers eventually crept close to the building, and there were reports of an explosion inside.

A short time later, someone wheeled a gurney inside and took an unidentified person to a medical helicopter parked on the school's football field.



Posted by "Jet" at 8:00 PM on Wednesday, September 27, 2006