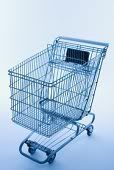 The other day I had to run a quick errand to the grocery store. I had to pick up some items I needed for a recipe I was making for a work luncheon. As I approached the front of the store there are the refreshment centers with Pepsi and Coca-a-cola, magazine stands and the all time parent favorite, c-a-n-d-y. As I walked by I wanted bottled water. I stopped and grabbed one and as I backed up I noticed a woman looking feverishly at all kinds of DVD's. Evidently that has become another something that is sold at the end of your visit to the grocery store. She has nothing in the main part of her cart and 5 DVD's sitting in the part where a child would be, if she had one or one with her. I went about my business and paid for my items purchased.

As I was walking out of the store I notice the same woman walking out of the store with a big ole' brown purse and no bag. She didn't act like she just dropped a $100 on movies. She had guilt written all over her. I watched her walk out and it dawned on me, that is the same woman I saw a few minutes ago. This woman was in her mid 40's, at least. She ran to her car and as she was running I reported her to an employee who was bringing carts from the parking lot. I couldn't explain the situation fast enough to her. And the woman go away. The sad part is I was totally eyeing out this woman and don't remember what she looks like other than her big purse. I never thought when I was standing next to her that I would have to remember. Thankfully there was video surveillance!

I look back and wonder how I would have handled this situation differently had I known what the outcome would have been and I honestly don't know. I don't understand, nor will I ever why some people things must come to them for free.

And when honest people purchase something we are paying inflated prices to compensate what thieves take.