Well this is my final week doing Flubbier Buddies before I go on vacation... I will probably keep it up when I come back, but on a more infrequent basis.

In total I lost 9 pounds between weight flucuations which is good, but that means I am closer to my ultimate goal. I would say eliminating all fast food and eating right from home has been a big part of my weight loss and will help aid in my endeavors in the future.

I wanted to thank all of my participants Val, Tyler, Blue, Jennie, Ender, Ang, Keverly, DramedyofLife, Matt, Tiffany, The Crazy Girl. It was a fun run and I'd love to do it again with all of you!!

Here's a good recipie for the last week... with Spring being here... It's very yummy!!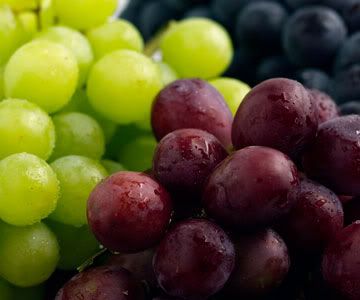 "A colorful, delicious salad of green and red grapes, lightly sweetened with a combination of marshmallow creme and cream cheese, with just a lite crunch of walnut or pecan"

I didn't have an actual picture unless I made it on my own... Which I will be doing soon!

INGREDIENTS:
1 pound seedless green grapes
1 pound seedless red grapes
1 (8 ounce) package cream cheese, softened
1 (7 ounce) jar marshmallow creme
1 (6 ounce) package slivered pecans or walnuts

DIRECTIONS:
1. Wash grapes in a colander under running water, and remove all stems. Place in a large bowl.
2. In a separate bowl, stir together the cream cheese and marshmallow creme until smooth and creamy. Pour the mixture over the grapes. Using a rubber spatula or large serving spoon, fold the mixture into the grapes until well coated. Fold in the almonds.
3. This salad may be served immediately, or covered and refrigerated for 1 hour to set slightly, and to allow flavors to blend.

ALL RIGHTS RESERVED © 2005 Allrecipes.com

Prep Time: 15 Minutes Ready In: 1 Hour 15 Minutes Yields: 8 servings



Technorati Tag(s) Weight Loss, Grape Salad, Flubber Buddies