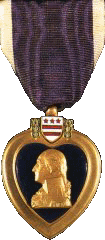 My renter for this week is an American Hero... This is the second time he's been here on Jetting Through Life... He was awarded with a Purple Heart. The Purple Heart is the oldest award given out. The award was established by General George Washington at Newburgh, New York on 7 August 1782 during the Revolutionary War.

While reading his latest post, I cried as he's still living to tell why he is receiving this prestigious award. I am thankful that he's still here to talk about it...

Please stop by Across the Pond via the link to the right... You will see exactly what a US Soldier goes through while away on what they call a "tour". Sometimes they aren't all they are cracked up to be. I am glad to know of someone who has been noble enough to receive an honor of this magnitude.

Drop by and send him your thanks, please!


Tags: