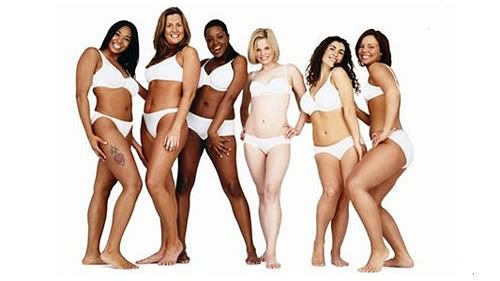 While watching the SuperBowl this year there was a simple commercial by Dove that was super sweet with children singing a song by Cyndi Lauper entitled, True Colors. Dove did a very good job and I think in a sense society is trying to make people of all shapes and sizes socially acceptible, again. It's a big step for one company on behalf of an entire society to back peddle what has been instilled in our society over the years... But it's a start!

Along with their Real Beauty Campaign they have the women to the left promoting Real Women Have Curves. The average woman in America is a size 14 and we are not appreciated of our curves... Dove has created this campaign and I think their marketing department really went out on a social limb. I think that a mould has been broken with this Real Beauty campaign. I think Dove has done a very good job in a subtle manner... I hope everyone got a big fat raise! I know I will still continue to buy my Dove deodorant!!

I am no feminist by any means, but this was a great idea and I think the commercial is worth checking out along with the links...

Check out the 45 second commerical below!